WHY CHOSE PRECIOUS COMPUTER TECHNOLOGY
ABOUT US
Precious Computer technology is committed to provide education services to the well known and recognized institutions. In line with this, we are in partnership with the IRGIB Africa University, Benin Republic. We serve as a liaison office where the prospective candidates obtains admission form for both Part-time and Full-time basis in various disciplines .
IRGIB Africa University is a training centre. By Neutral and outright, it is known to and authorized by the Benin Minister of higher education and scientific research.
Beside the initial professional training handed out to students and workers of the private and public sector, IRGIB-Africa also contributes to the promotion of research and excellent spirit about science, technologies and economic development within ECOWAS and Africa. That is why we emphasis on the professionalization of the sector.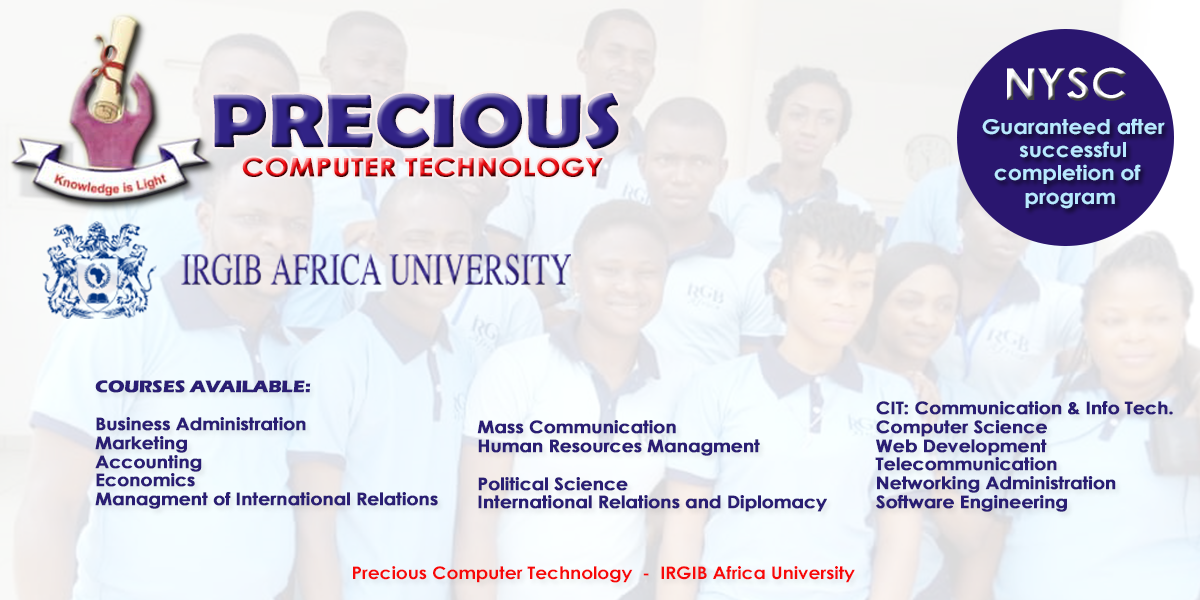 Our Partners

TESTIMONIALS
We Give the Best so... " we learn for rising, we rise to defeat under-development.

Olakunle Adeyele
, Ex Student
Precious Computer Technology is the best affiliate school, that changed my life to what I am today. Thank you.
Anago Daniel Felix
, Student
IRGIB AFRICA UNIVERSITY Is one of the Best School. We appreciate Precious Computer Technology for bring the school close to us.
Olayiwola Adenike Nofisat
, Ex Student
If I can recommenced any could recommend any school, I will recommend IRGIB-Africa University, Brought to us by Precious Computer Technology. Kudos to you guys.